How to Calculate and Earn Elite Miles on Alaska Airlines
It's April, and for all the travel enthusiasts among us, it's the most depressing time of the year. It's the time when all your loyalty programs reset their mileage earning clocks to zero last quarter and you're starting from scratch. You're sitting down with a calculator, trying to figure out when you're going to earn your qualifying miles, which trips will count, and if you might need a mileage run in the future.
Because you've got a fresh start in the new year, it's important to know how to earn Elite Qualifying miles on Alaska Airlines and how they're calculated, lest you have a nasty surprise at year's end and you're stuck a few miles short of your goal. Learning the best way to calculate how many miles you're earning is the best way to figure out how many miles you need to take stellar rock star vacations like the one we took to the Maldives last year.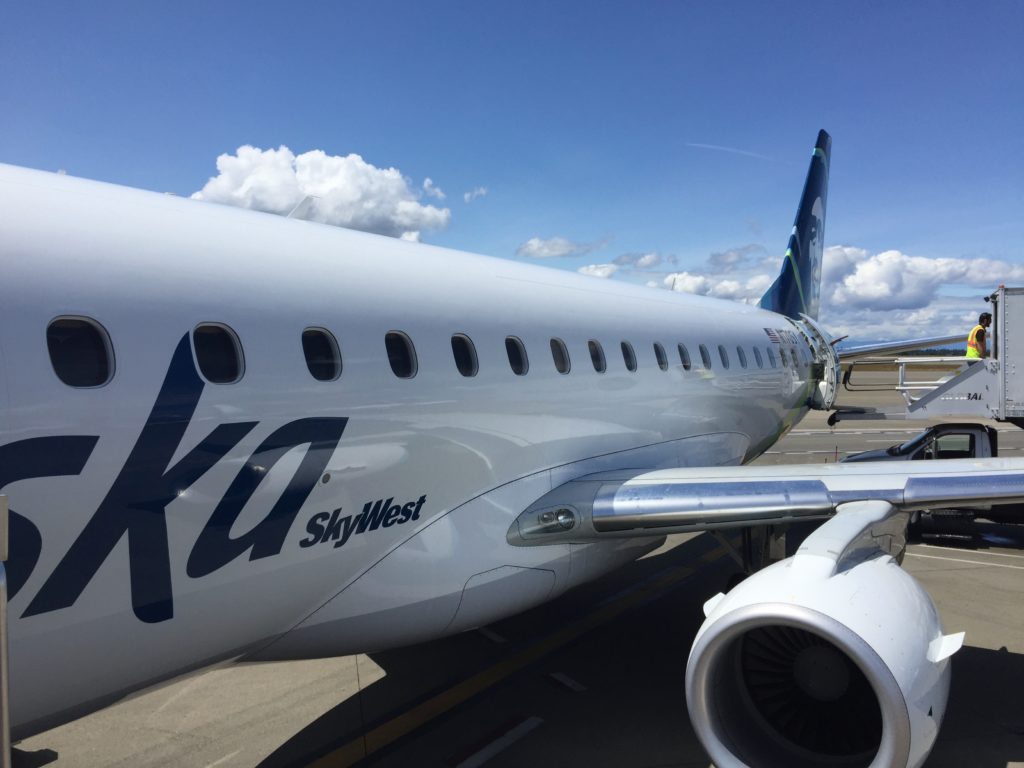 Alaska Airlines Mileage Earning Decrypted
Trying to understand the difference between miles flown and elite miles and bonus miles and qualifying miles can be just as confusing for a Gold 75k Elite as a base mileage plan member, so let's run through the meanings of each of those categories and give some examples to help make things clear.
Flown Miles on Alaska Planes
On Alaska, you'll earn one mile per actual mile flown. If your flight is shorter than 500 miles, you'll earn a 500 miles minimum for those legs.
Any economy fare, even the cheap saver fares, will earn 100% mileage credit.
The same does NOT apply to their partners however, and we'll get into that shortly.
Class of Service Bonus Miles
If you book yourself into a higher class of economy (more expensive fare) or a PAID first class flight, you'll earn a bonus on top of those 100% miles.
For Alaska Flights, both the base miles AND the bonus miles count toward elite status. If you book into an M or B class economy fare, you'll earn a 25% bonus. Get stuck in a super high Y or S economy fare and you'll earn a 50% bonus.
If you book into a paid first class fair in F or P class you'll earn those 100% miles AND another 75% bonus on top of that.
Let's use a sample route from Seattle to Phoenix. The route covers 1,106 miles. No matter what economy fare you book, you're going to earn at a minimum 1,106 miles.
Book into those M or B fares, and you'll earn 1,383 miles toward elite status. Y or S fares earn 1,659 miles and paid First Class fares earn 1,936 miles toward elite status.
Elite Bonus Miles
Depending on your Elite Status (MVP, MVP Gold, or MVP Gold 75k) you'll also earn a bonus on your miles flown.
IMPORTANT NOTE. THESE BONUS MILES DO NOT COUNT TOWARD ELITE STATUS.
The miles will add to your overall mileage balance to redeem for awards, but those elite miles do NOT and will NOT count toward your elite qualification.
Using our example from above, a coach flight would earn 1,106 for a base member flying in coach. MVP members (earning 50% bonus) would tack on another 553 miles to their account balance. MVP Gold members (earning 100% bonus) would get an additional 1,106 miles to their account for redemption, and top tier MVP Gold 75k members (earning 125% bonus) would earn another 1,383 miles in their Mileage Plan accounts.
Reduced Earning on Partners
Alaska Airlines has one of the most versatile and expansive partner networks in the industry. It spans across all the three major alliances (SkyTeam, OneWorld, and Star Alliance) and includes independent partners as well such as Emirates and Fiji Airways.
It is very important to note however that the "one mile flown is one mile earned" doesn't necessarily ring true for partners. Depending on the class of service flown, you might wake up the next day only to realize that you've earned a fraction of your flight miles. Here's a few stark examples.
HUGE Partner Bonus opportunities
Just as you can be punished for flying in cheap coach fares on partners, you can be richly rewarded by flying in paid premium class seating on their partners as well. Depending on the airline, your elite status and class of service, you could earn up to 625% of those flown miles for each flight you take.
This is, it should be noted, one of the easiest ways that we re-qualify as Alaska MVP Gold 75k each year. British Airways often sells their First and Business class tickets at really cheap rates (read here, and here, and here, and here, and here for examples). If you're earning between 500-600% mileage on each of those flights, you're coming out ahead.
It should also be noted that those 500-625% are not all elite qualifying miles. For example, on a paid business class fare, you're earning your 100% base miles plus the 150% class of service bonus for elite status. The highest First Class ticket earns those 100% base miles plus a 200% class of service bonus.
One round trip between Seattle and London (at a distance of 4760 miles) would earn between 23,800 and 28,560 miles toward your elite status, just from one round trip!
Companion Pass Earning
Lastly, I wanted to touch briefly on the Alaska Airlines Companion pass. Every year on account anniversary, if you hold the Bank of America Alaska credit card you'll earn a companion pass good for a buy-one-get-one free ticket.
Wanna know the extra cool part about that ticket? Even though your companion is paying a drastically reduced cost, you're both booked into the same fare class, meaning that your companion will earn the same 100% miles that you would! What an awesome way to earn miles and save money at the same time.
Last Word
Making sure that you re-qualify is crucial to your success in achieving your tier next year. It doesn't have to be rocket science to decode the ins and outs of elite programs, but it can be confusing. Just make sure that you calculate your distance beforehand (using an estimator like the webflyer mileage calculator) so you're not caught off guard.